Medical Imaging Management System (PACS)
Product overview:
ASDC medical imaging management system is a comprehensive medical care imaging information management system in a hospital or departments. From the medical imaging acquisition, transmission, storage and query of the image data, viewing image, comprehensive information management, image processing and imaging report, to provide full-scale image management business supports.

At the same time, the system has a breakthrough of platform limitation, which means you can read the original mass of medical imaging data in any mobile terminal, supporting both online and offline reading. To support DICOM、IHE、HL7 and others international standards, can facilitate the seamless connection with the original hospital system, operate independently, and also be embedded into a mobile ward system and so on.
Product functions:

Medical imaging acquisition, transmission, storage and management

Patients and imaging information index, search, and management

Medical imaging data query, image display and display layout of customer definition;

Medical image processing (wide window and position adjustment, Highlight inverse to white, scaling, translation, rotation, mirror, mark measurement)

Medical imaging multiple sequence browsing, synchronized browsing

Appointment, see a doctor, inspection and other process management

imaging report entry, management, template customization

The imaging report of two and three stage audit

Moving imaging online / offline access

Mobile imaging processing (window width and position adjustment, highlight, zoom, pan, rotate, mirror, marking the measurement)

Advantage:

Efficient and reliable management of medical images and information

The comprehensive image display, processing, and image data indexing and management functions

Optimizing the work flow, improving the working efficiency of the doctor

According to the scale and demands of the hospital, from individual PACS application to entire hospital, the system can be configured flexibly

A breakthrough platform limitation, can read the original mass of medical imaging data inany mobile terminal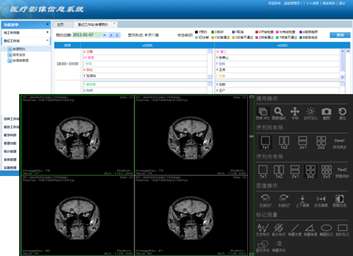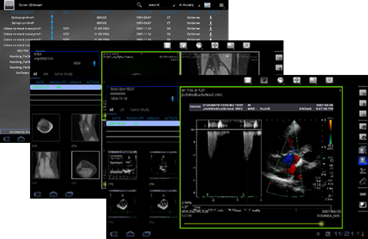 Advantage:

Full length of DICOM3.0 support. Supporting CR, DR, CT, MR, DSA, PET and other equipment imaging;

The rich reviewing 2D image, MPR, 3D reconstruction, mixing and other professional imaging processing functions

Supports multi-modal integration, preoperative and postoperative comparison function

Neurosurgery Clinical professional custom functions

Orthopedic clinical professional custom functions