Comprehensive Archives integrated Management system
ASDC digital archives Integrated Management System, following the development trend of National Archive industry , based on 《Digital Archives building guideissued by State Archives Bureau, applies for all level archives, functionally covers " Five-in-One " principle in business , strengthens the integration between funds constituting unit and archives, realizes the integration between the front control and Library, and has benefits for unifying standards and managing funds constituting unit standardized.
To superior, opening archives data interface smoothing the electronic data transfer; To external, providing network query, borrowing, government affairs, patriotism education and other informationized services to the government and public by releasing modules; To subordinate, supporting received platform, which receives Electronic archives from subordinate funds constituting unit in loop, smoothness and safety.
Product overview:
According to the advanced e-document management concepts (ISO15489、23081), related domestic standards and norms (such as DA / T 46,47,48, ERMS), and opened-e archive reference Model (OAIS ISO14721), ASDC developed digital archive comprehensive management system and a set of products based on the platform.
ASDC digital archive comprehensive management system supports background, structure and management metadata of collection and management in the entire life-cycle of e-document, solved the difficulties of reality, integrity, effectiveness, and openness in e-archive management, and is the only fully functional SOA Archive Management System, which supports cloud application and greatly improves the loosely coupled integration with other systems, and has expandability of requirement changes and intensity of centralization application.
The composition of product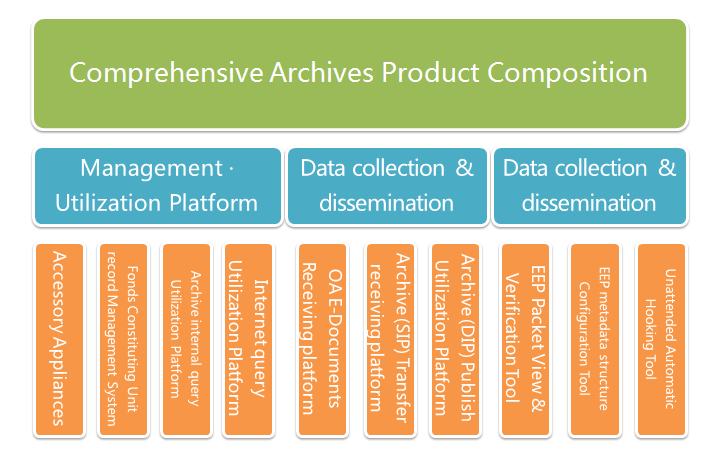 Advantages and features
ASDC digital archive comprehensive management system has 6 points below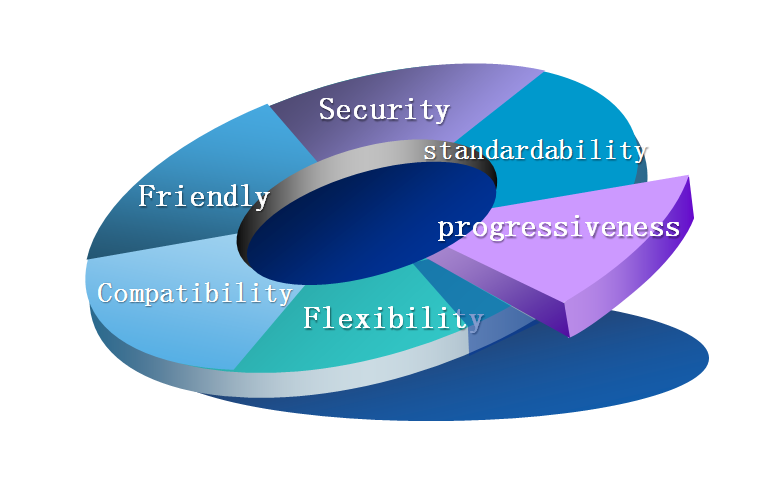 Security in digital signature, https encrypted transmission network, query in stream flow, privilege management and so on, which guarantee system and data in safe.
Standardization business workflow includes information collection, circulation, save and usage. In the process of information circulation, it related to encapsulated and resolved SIP(information package submission ), AIP/EEP(Archive information package), DIP(Releasing information package) which is related to function modules and deployments, data flow orientation based on OIAS model, and metadata based on related domestic standards and norms.
Friendly products adopt multi-views displaying in CS+BS with concise beautiful user interface; The system is operated intelligent, quick,description,statistic customization flexible, index manners intelligent and versatile, intellectual batch operations resulted as high effect of business operation.
Progressiveness in adopting SOA + cloud architectures, applying intelligent index application, CAS storage, automatic extra of structure metadata, big file encapsulated and resolved in XML technologies and so on, which are advanced, stable, entire framework mature, platform strong transformation.
Compatibility across-platform, compatible various operation systems and application servers; compatible various web browsers; supporting data exchange within others heterogeneous system.
Flexibility system providing strong customizing function.
Archive library customizing Archival Description user interface to customize the customization of customized reports of borrowing, appraisal flows and so on; The customization for statistic solution customization of system style…… Function flexible customizing, strong extensibility, satisfying the development expending requirement.
Typical clients:
Jiangxi provincial archives bureau
hainan province Archives bureau
Jing De Zhen City Archives bureau
Jiangxi police academy
China mobile research institute
Nanchang city in jiangxi province social security center
Nanchang city in jiangxi province medicare center
Beijing administration of industry and commerce bureau
China mobile research institute
CCCC Planning and Design Institute
National Agricultural Modern Logistics Engineering Technology Research Center
Hebei Zhuo zhou City Bureau of Housing and Urban