BYOD-Mobile Office Solutions
IT consumption brings new fashion BYOD which achieved real "Any Device". Currently, BYOD is not only the trend concept, but also the necessary compliment to office work, the irresistible trend which is changing the people's work manner. For most enterprises, simply to stop BYOD accessing enterprise applications is impracticable, employees are expecting employer or enterprise can support them BYOD. Actually the requirements of employees and how to support enterprise operation management level and Work efficiency are driving the change and adaption of enterprises to BYOD new technology innovation.

ASDC enterprise mobility solutions united HuaWei BYOD solution to provide clients a set of solutions from the network infrastructure, equipment, terminal management to the general enterprise mobile application, industry of mobile applications completely.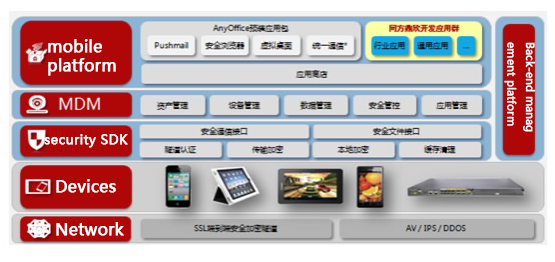 ASDC solutions provide clients general enterprise mobile applications and industry mobile applications, to help enterprises solve the challenges in mobile collaborative office, enterprise mobile message and notice management, CRM and so on.

ASDC solutions adopt many aspects which include the mobile terminal security, network security, application security, sensitive data security, and security management etc to protect All-round for mobile office, helping enterprises find the careful balance between BYOD high degree efficiency and information security. Network diagram as following: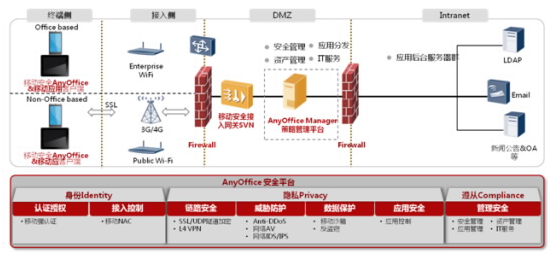 Typical clients include bank, the government institute and so on which enterprises/units need security mobile office solutions.